Annoying dialog boxes
By jacobo, on 2007-1-22 at 22:47, under
Web dev
So I installed Eclipse to do some web development in Java, and this dialog box appeared: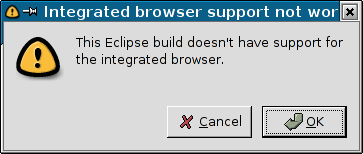 I didn't know what it was, and that was already reported twice (one, two), so I just clicked on "Ok", and Eclipse worked correctly.
But the next time I started Eclipse, the same box appeared: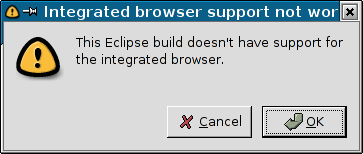 This time I pressed "Cancel" to see what happened. Eclipse did not load. So I ran Eclipse again and… well, I'll spare you the dialog box.
Needless to say, I was less than impressed.
Now I'm hoping it will eventually get bored of always saying the same thing when starting Eclipse, and graduate to small talk: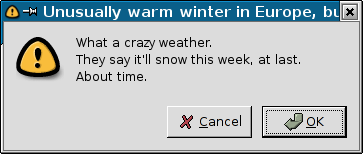 If not, it could at least take advantage of the fact that it's being run on a Debian developer's computer and show this: