Top posters, you say
When Mako writes about top posters, I cannot help but think of this kind of posters: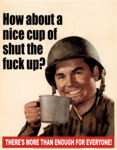 There's a t-shirt too…
Debconf5
By the way, I'd like to apologize in advance to the passengers of flight Air France 1098, Paris Charles de Gaulle — Helsinki on July 9th, in case your (our) flight is delayed because I have a very optimistic travel agent who believes that 65 minutes ought to be enough to make a connection in that airport. Thanks.
I'd apologize to the passengers of the return flight to Vigo on the 18th too (50 minutes), but I can't remember the flight's designation.